This is the program planned for all the earth, this is the hand stretched out over all the nations. Jehovah, the Lord of host made the decision: who is there that can stop Him? He has stretched out his hand: who can turn it back?

Deuteronomy 32:1-4 "Give ear, O ye heavens, and I will speak; and hear, O earth, the words of my mouth. My doctrine shall drop as the rain, my speech shall distil as the dew, as the small rain upon the tender herb, and as the showers upon the grass: because I will publish the name of the LORD: ascribe ye greatness unto our God. The Rock, his work perfect: for all his ways judgment: a God of truth and without iniquity, just and right"

2 Thessalonians 2:13-14 "13 But we are bound to give thanks alway to God for you, brethren beloved of the Lord, because God hath from the beginning chosen you to salvation through sanctification of the Spirit and belief of the truth:14 Whereunto he called you by our gospel, to the obtaining of the glory of our Lord Jesus Christ"

Gospel = the good news of salvation in Jesus Christ.

John 10:27 "My sheep hear my voice, and I know them, and they follow me"

As a sheep of God this is what I hear: Proverbs 5:15 "Drink waters out of thine own cistern, and running waters out of thine own well"

Isaiah 12:2-3 "2 Behold, God my salvation; I will trust, and not be afraid: for the LORD JEHOVAH my strength and song; he also is become my salvation.3 Therefore with joy shall ye draw water out of the wells of salvation"

The Lord Jesus Christ has given me water out the wells of Salvation, it is my own water and this is what I am doing by God's command and grace: Proverbs 5:16 "Let thy fountains be dispersed abroad, rivers of waters in the streets"


I heard my Shepherd very early in my Christian life: John 15:16 "Ye have not chosen me, but I have chosen you, and ordained you, that ye go and bring forth fruit, and your fruit remain: that whatsoever ye shall ask of the Father in my name, he give it you"

And what is this fruit that remain?

Answer: Praise to my Saviour for His wonderful Salvation that He has brought to my soul.

Hebrews 13:15 "By him therefore let us offer the sacrifice of praise to God continually, that is, the fruit of lips giving thanks to his name"

Psalm 86:13 "For great thy mercy toward me: and thou hast delivered my soul from the lowest hell"

I have been praising my Saviour, every day since He came to this house.

Psalm 63:3-5 "3 Because thy lovingkindness better than life, my lips shall praise thee.4 Thus will I bless thee while I live: I will lift up my hands in thy name.5 My soul shall be satisfied as marrow and fatness; and my mouth shall praise with joyful lips"

King James Version is used in this site and the reason is that it is the most faithful translation. This translation let the reader know what has been added; the words added are either in italics or inside a bracket. Many of these additions had been removed from this site and in many places the message changes.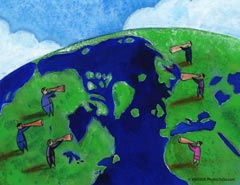 Looking for God's chosen people, those who worship in spirit & in truth.
John 4:23-24 "23 But the hour cometh, and now is, when the true worshippers shall worship the Father in spirit and in truth: for the Father seeketh such to worship him. 24 God [is] a Spirit: and they that worship him must worship in spirit and in truth"
A commandment is given to Peter in John 21:15-17:"15 So when they had dined, Jesus saith to Simon Peter, Simon of Jonas, lovest thou me more than these? He saith unto him, Yea, Lord; thou knowest that I love thee. He saith unto him, Feed my lambs.16 He saith to him again the second time, Simon of Jonas, lovest thou me? He saith unto him, Yea, Lord; thou knowest that I love thee. He saith unto him, Feed my sheep.17 He saith unto him the third time, Simon of Jonas, lovest thou me? Peter was grieved because he said unto him the third time, Lovest thou me? And he said unto him, Lord, thou knowest all things; thou knowest that I love thee. Jesus saith unto him, Feed my sheep."
It is for me too, "feed my sheep" The Lord Jesus has given me bread and water for His people, which is "Salvation is of the Lord" Christ dying for the sins of His people alone.
Freewill of man doctrine does not satisfy the souls of God's chosen people and only God's Salvation makes us free. Freewill of man doctrine is a strong delusion sent by God to the vessels of dishonor fitted to destruction.
My prayer
Psalm 85:7 "Shew us thy mercy, O LORD, and grant us thy salvation"
"Who shall lay anything to the charge of God's elect? God is that justifieth them"
9-9-2017
"Let all those that seek thee rejoice and be glad in thee: let such as love thy salvation say continually, The LORD be magnified"
3-30-2018
Jerermiah 33:6 "Behold, I will bring health and cure, and I will cure them, and will reveal unto them the abundance of peace and truth"